BE A GEM FOR A DAY 2020!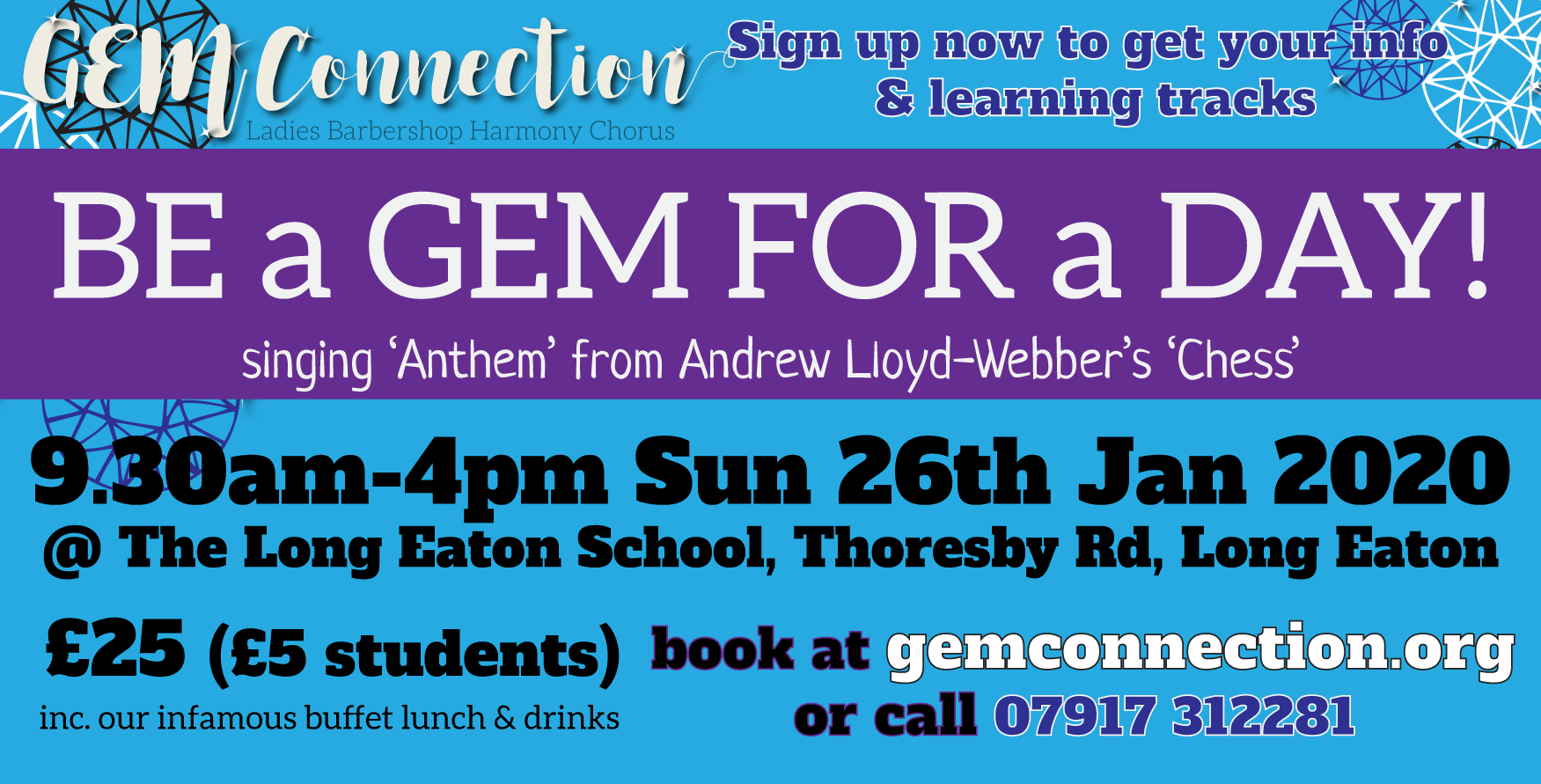 | | |
| --- | --- |
| Type of post: | Chorus news item |
| Sub-type: | No sub-type |
| Posted By: | Rachel Watson |
| Status: | Current |
| Date Posted: | Sat, 23 Nov 2019 |
Come along to our fourth BE A GEM FOR A DAY event!

Get a taster of what it's like to sing as part of a 70-strong women's barbershop harmony chorus - we'll take you through what four part harmony is all about, what makes a great barbershop sound, how to make the most of your voice, some great vocal warm ups - and then we'll get to grips with singing a wonderful song from the West End, 'Anthem' from Andrew Lloyd-Webber's 'Chess'. We'll finish the day with a performance for your invited friends and family - and maybe even some GEM repertoire into the bargain.

Sign up now to get hold of all the information including voice tips and all the learning tracks for the song - you can pick from each of the four parts from tenor (the highest, twinkliest notes), lead (most often carries the main melody of the song), baritone (who get all the crunchiest, delicious notes to fill out a chord), and bass (the deepest, most resonant notes)...then start learning the dots ready for when you get on the risers!

Your £25 (just £5 for students!) gets you all the materials, a slap up buffet lunch and drinks, and all the laughs you can handle.

These days are always great fun, and what could be better than treating yourself or a loved one to a harmonious, uplifting gift for Christmas? :)

Drop us a message if you have any questions - we're more than happy to help!